Delivery Information|Seafood Bazaar
Order cut off times and delivery days
​Place your orders before 1pm Monday to Friday for delivery next day Tuesday to Saturday.
Orders placed after 1pm will be allocated to the next available delivery day.
Any orders placed after 1pm Friday will be dispatched Monday for delivery Tuesday.
To ensure delivery of Rural deliveries, please order Monday, Tuesday or Wednesday only by 1pm.
Our courier partners will leave the delivery at the door on their normal delivery cycle. In most cases, deliveries will be made by midday, however this is dependent on daily demand and local conditions. In all cases, deliveries should be completed by 5pm.
Some delivery areas are not serviced by a Saturday delivery. Please use the address checker here to check delivery to your address. We use Courier Post/NZ Post for delivery. Saturday deliveries have a Saturday surcharge, please ensure that this option is selected if Saturday delivery is required.
​Delivery areas and deliveries
​We are delivering overnight to North Island and South Island urban areas using NZ Post (formerly Courier Post). ​
Rural ​deliveries are available and in most cases are delivered overnight though please allow 2 nights. If frozen or live product is ordered we will pack the best we can, but cannot guarantee that frozen product will arrive frozen or live product alive should the delivery take more than one night. If the rural delivery option is chosen, the responsibility lies with the receiver and not the sender. Our policy is to dispatch rural deliveries Monday, Tuesday and Wednesday only.
Please note that all times referred to are under standard conditions, adverse weather events and such may cause delays which are outside of our control.
Temperature please check temperature upon arrival. If the temperature is warm, do not consume and contact us immediately.
​Frozen product
​While we will pack your order to the best of our abilities, frozen product does start thawing as soon as it is removed from the freezer. If frozen product is ordered, responsibility is on the receiver and not the sender for defrosted product on arrival. If product has arrived thawed, do not refreeze and you should consume within 3 days,
​Live product
​All live orders leave us alive, however some lives are stronger than others which means that some lives may end before they reach their destination. Be assured that the product is still fresh provided it has arrived cold. Please let us know in the instructions if you would like us to pack a freshly deceased product for you.
Live mussels may look a little shocked and have their mouths (shells) open after they have spent so much time in a cold environment, they prefer it to be a little warmer. If you leave them somewhere a little warmer for about 15 minutes they should wake up and behave again.
​Product weights
​For all products sold as a weight, example: fish fillets of 500 grams, we will always pack a minimum weight of 500 grams. Fresh seafood comes in many shapes and sizes and catches can be different every day. Please let us know in the instructions if you would like us to find certain fillet sizes, however this is not guaranteed. Some products sold as an approximate weight with a fixed price may have an actual weight that is +/- the approximate weight given.
​Freight
​We have tried to keep it simple but also the best price available for each delivery region.
Waikato/Bay of Plenty Urban up to 5kg $9.75 then $1.95 per kg
Waikato/Bay of Plenty Rural up to 5kg $14.50 then $2.90 per kg
North Island Urban up to 5kg $12.50 then $2.50 per kg

North Island Rural up to 5kg $16.50 then $2.50 per kg
South Island Urban only up to 3kg $34.50 then next 3kg extra $34.50 etc
Saturday deliveries incur a Saturday surcharge by NZ Post. For Saturday delivery, please ensure that the Saturday delivery option is selected.
​Handling of product on arrival
​Once you have your fresh seafood, remove it from the packaging in which we have shipped it to you. We recommend placing it on a plate and refrigerate, covered with kitchen paper or cling film until you are ready to eat.
Fresh seafood from Seafood Bazaar should have shelf life of 5 days from packing, though we recommend consuming within 2 days of receiving for best results.
Freezing of fresh product is an acceptable practice.
You should always use the sharpest knife when cutting fish, cut along the grain towards you. For most fish, you only need to use a dragging motion (towards you)
​Trust us
​Seafood Bazaar operates under an MPI approved RMP plan and is export approved.
Goods & Services Tax
All prices are in NZ dollars and include GST.
GST amount will be shown at checkout.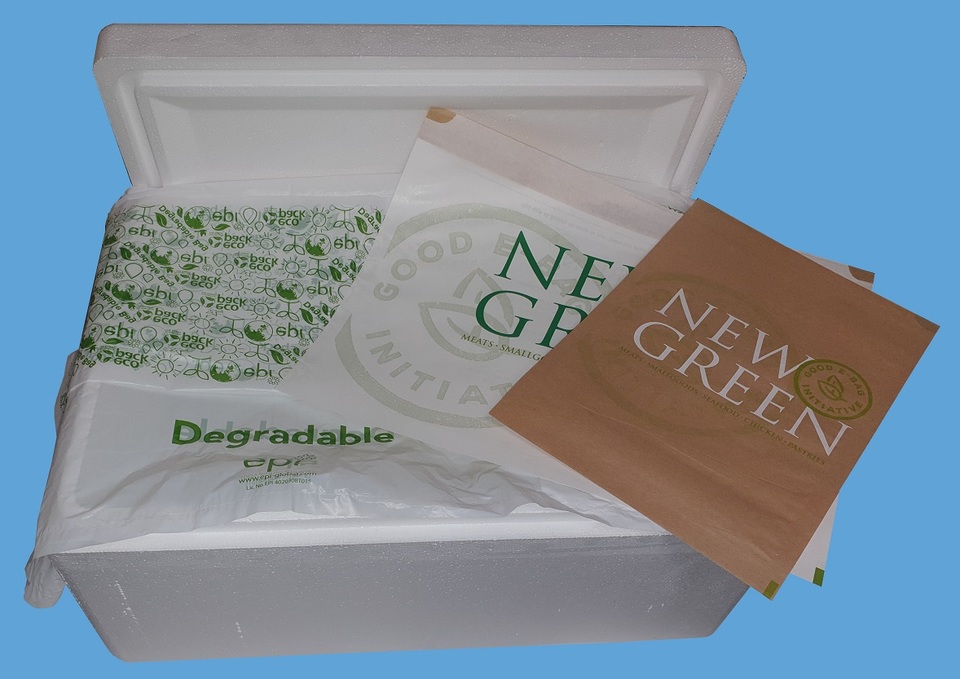 Our Packaging
We have tried our hardest to be as environmentally friendly as possible with the packaging choices we have made for your delivery. While there are some innovations in development, we still get best temperature results from polystyrene boxes. While we are still searching for a plant based alternative, polystyrene can be recycled at many places around NZ, you can see the locations here.
What we have made progress with
Carton liners used are degradable.
Fresh seafood products, where possible, will be packed in commercially compostable packaging from New Green. You can view more about their products here.
Gel packs can be reused many times when you need to keep things cold. Ideal for camping, picnics, sports events, at the beach or by the pool. Gel packs can be recycled by cutting open and disposing of the gel in the waste (gel is non toxic and is not harmful when put to landfill). Wash the plastic and recycle via kerbside recycling for soft plastics.